Good evening, I'm Donnie Lemonie the most impartial, non-bias journalist to ever exist! You might remember my brief news reports on my Twitter controversy show, Tweet*Tea*Birds.
The funny thing is that Lola Bunny's hyper-sexualization might be McDonald's fault of all people. Original concept art for Daisy Lou or Lola Rabbit is very tame compared to the end design. So what happened? Space Jam being the heavily marketing event that it was got in a little trouble with it's McDonald's sponsors. The Golden Arches allegedly refused to sell Lola Rabbit toys. The problem being that Bug's Girlfriend resembles a teenage girl, we are not selling her in happy meals.
It appears that the Warner Bros, animation team decided to overcompensate for that critique and if they wanted an adult Lola Bunny, they were getting a design that was clearly an adult. A design that was done without the assistance of Looney Tunes legend Chuck Jones put it this way:
in his opinion, Lola Bunny is a character with no future, she's a totally worthless character with no personality. He didn't like Lola or the idea and comedy of "Space Jam" at all.
However, Jones was wrong sort of. Lola Bunny has stood the test of time as an 90s animation icon, had a fun stint in The Looney Tunes Show, and was a big deal in this reboot. A fan favorite for sure and the Twitter discourse is intriguing to say the least.
Lola Bunny Redesign Controversy
So what was the deal with Lola Bunny, well people are weird, that's fur sure. As for this movie, Lola Bunny is oddly promoted while simultaneously sidelined. Lola Bunny has much more opportunities to become a larger more prominent character but also fails to establish any sort of personality or dimension to her character.
She has so much more lines and influence over the first half of the movie. She actively feels part of the group and she does act as a motivator and more of the straight man that LeBron can communicate rationally with. I mean they give here a whole sequence to her doing some more of those Them Themyscira Olympic games. I didn't care for it, the comic book style looked kind of crude and I'm sorry but the Wonder Woman theme is just annoying at this point. It was cool maybe the first couple of times but now it's just becoming the next Wilhelm scream, or Johnny Test wipe sound effect.
Lola Got No Game?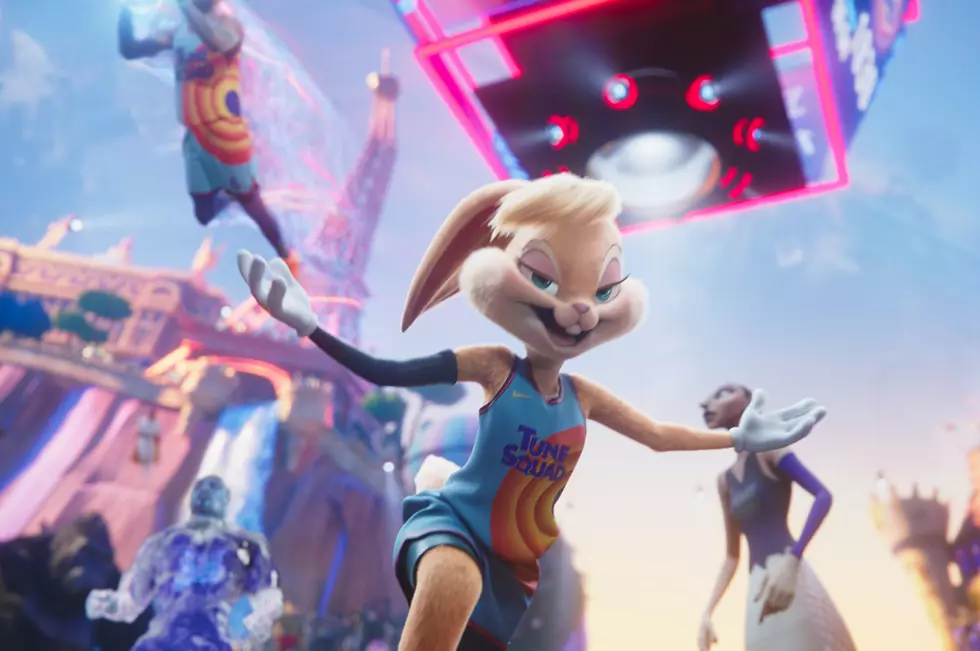 The big issue is that Lola Bunny, the believed 2nd best basketball player on the Tune Squad does nothing the entire 2nd half of the movie. Besides replicating the Dwayne Wade alley-oop, I don't even remember her scoring a basket. At least in the first movie she influenced the plot by having Bugs take a hard hit for her and rewarding his sacrifice with her affection.
I know it is shallow and probably outdated but at least that is some degree of cause and effect that this character had on the game. At the very least in the original, you would have to rewrite the script if you took out Lola Bunny. Sure it would be minor things shuffled around but you could honestly give all her dialogue to Bugs or another Toon and nothing skips a beat. Somehow that feels kind of worse.
Lola's Ultimate Evolution
So Lola Bunny is a character that people admire for shallow reasons in the original. She's the sexy jock girl that provided the minimal role of boosting the teams odds of victory and being someone Bugs Bunny would be smitten with. She's pretty much just Kate Veach from Dodgeball, and there's nothing wrong with that.
The new Lola Bunny is a character only admired for shallow reasons as well. She's indictive of the female girl boss fantasy and is more something to praise as the product of the culture shift of less pandering to the male gaze and more adjusted to messages of woman empowerment even if this examples is shallow as the character does very little to feel "empowered". There's nothing wrong with that either, the times have changed and there's nothing wrong with reinvention. I think the aforementioned Looney Tunes Show of the early 2010's is a great example of better reinvention.
Kristen Wiig did such a refreshing portrayal that gave Lola Bunny a personality and one that played well off the other Toons. She was someone who influenced the plot and had emotions and flaws and other aspects to her character that was entertaining to watch. Sure you can get some enjoyment out of both betrayals of this character and neither is inherently flawed or as bad as detractors make it out to be. To be honest, I think both miss the mark on making a resoundingly enjoyable "character" that solidifies her current standing as a fan-favorite Toon.
I'm Donnie Lemonie and I keep your news just like you like it…….. Tweet & Sour.