What's up guys, it's your dude, Dude Sports Guy. There's something that needs to be addressed (Is it that you're starting to establish six degrees of separation between your own personas and this level of dissociation is beginning to get concerning). Whatever that means… no. we need to talk about how the sports world as we know it is in utter shambles. With multiple NBA players contracting the Coronavirus the league has been shutdown until further notice. NHL and MLB are also following suit, and the NFL free agency period is in full swing but with a strain being felt on visitation and contract negotiations.
Their absent will be felt. Nothing quite captures the raw thrill of sports, and how both skill and luck create some of the most shocking entertainment you'll ever see. Because you never expect a pack of Golden Retrievers to topple the best team in the country in the first round, or a 6th round pick to be the most dominant player the game has ever witnessed, or the USA Men's Soccer Team to win a game….ever.
But we must preserve, we must find something to satisfy our sports fix. I wanted to do what every sports fan does, and that's absolutely shit on all the crap I don't agree with. Should be easy given all the melodramatics of anime…but then this happened. I began watching Kuroko's Basketball and during the first game at one point I thought " if you're opponent is so dependent on 1 guy you would probably start playing a box-and-1 defense" and then the show earned my respect as their coach called a time out and did just that. The show actually acknowledges that a team does have bench players and has already proven to me that it's not just a "shounen" type show that has chosen basketball as it's combat method, but does come from folks who do genuinely love the game.
So here I'm going to do the same: If you love the anime then I'm going to go over some of the real basketball players and moments you should know about. And if you love the sport as much as I do, hopefully I can show you why Kuroko's Basketball is also pretty darn good.
The Dynamic Duo
I think Kuroko appeals to me on a deeply personal level because a physically unimposing phenomenal passer setting up a thunderous power dunker… was my childhood. For some reason it feels refreshing to have a protagonist in a sports show not be a shallow punching up underdog who's short but believes in himself and wants to become the very best. Imagine the top sports anime having such a cliché and simplistic character (I know, you know what I'm talking about…I'm not sorry).
But enough dunking on Orange Ash Ketchum, Kuroko despite being a less intimidating presence he's an extremely unique character. A very muted personality, Kuroko is a stoned face killer while being a specialist that has to unite his team in order to claim victory. Kuroko was a member of the most prestigious team across the region and didn't just ride the bench but was recognized and mutually respected by his former teammates of the "Generation of Miracles".
Kuroko would get dominated by anyone he shares the court with, however his tenacity and incredible passing ability makes him one of the most valuable players on the court. Cue the highlights of my favorite baller:
At a time when Kobe Bryant, Lebron James, Tim Duncan, Kevin Garnett, and Dirk Nowitzki where arguably all in their prime Nash was league MVP twice. Don't me wrong those guys are all dominant Hall of Famers but when you put one of those guys in – your line-up was better; when you insert Nash – your entire line-up got better.
Kagami's playstyle also just screams Nash's partner in crime Amar'e Stoudemire. Nothing could stop Amar'e , maybe multiple microfracture knee surgeries but nothing on the court was stopping this man. "Stat" is underrated overshadowed by being Nash's 2nd fiddle and not being as versatile as say Duncan, Garnett, or Dirk.
Kuroko and Kagami match the flashy play-making ability of the 2000s Suns Duo, who also struggled to play with much discipline and defense. The Suns ran an infamous run and gun style that constantly pushed for fast break offense. Suns offense was dubbed the "The 7 Seconds or Less" offense as the goal was often to score in under 7 seconds (Also ironically the same amount of time covered in a typical episode of Kuroko as the run time is filled with freeze frame monologues). The Suns high tempo offense was very success but critics say it would never be good enough to win a championship… and you know what? They were right. The only other tandem that comes close to replicating the anime's protagonist would probably be Chris Paul and Blake Griffin but those two have more dynamic play-styles then the Nash & Amar'e pick and roll that really complimented each other like no other.
The 2000's Suns were a team that had an exciting play-style that also made for ample drama. The team's lack of being able to defend….anyone….to save their lives made them a team that's potency made them a worth rival to any opponent but one that would take games down to the wire and display the best both squads had to offer. To me, that is the perfect premise for some great entertainment.
The Fab Five vs. The Generation of Miracles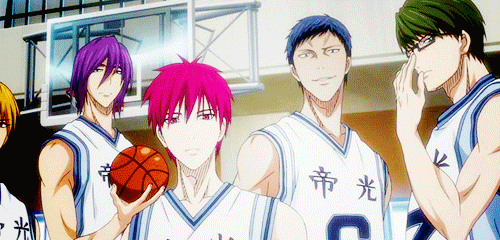 Obviously when I think of the closet thing to The Generation of Miracles the first thing, I thought about was…. Those dudes from Queer Eye. Why did I look up The Fab Five in regard to basketball, I did my research on them in the University of Michigan research database and the only result that came back was, "sorry, we don't know what you're talking about"?  Weird I have a vague recollection of an infamous team that changed the world of basketball with a tremendous amount of [REDACTED] wins.
Baggy shorts and black socks are what you'll find on almost any basketball court, all thanks to The Fab Five. One of the greatest recruitment classes the sport had ever seen, Michigan were one of the most unforgettable college basketball teams, bolstering a unique line-up of all freshman.
Chris Webber (#1 Recruit in the Nation)
Juwan Howard (#3)
Jalen Rose (#5)
Jimmy King (#9)
Ray Jackson (#84)
Being all freshman, The Fab Five rode the wave of being a team with attitude and carrying a chip on their shoulder. The Fab Five have ultimately achieved nothing, because of two things. The first being Chris Webber forgetting how many timeouts are in a basketball game, and the 2nd being Chris Webber forgetting that telling whites lie to a federal grand jury isn't such a good idea.
From 1992-1999 the University of Michigan scrubbed 113 victories from the record books, effectively deleting The Fab Five from them. All of this because a team booster Ed Martin was paying players to launder money from his illegal gambling operations…. Oopsie.
The Fab Five was a "generation of miracles" and they're legacy on the sport won't be so easily erased. From their representation of clashing identities against the arrogant yet disciplined rich boy Duke team, or the impact Howard, Rose, and Webber had in their NBA careers; The Fab Five inspired players and trail-blazed a path for the style and confidence we know today.
Riko Aida – Coach's Ability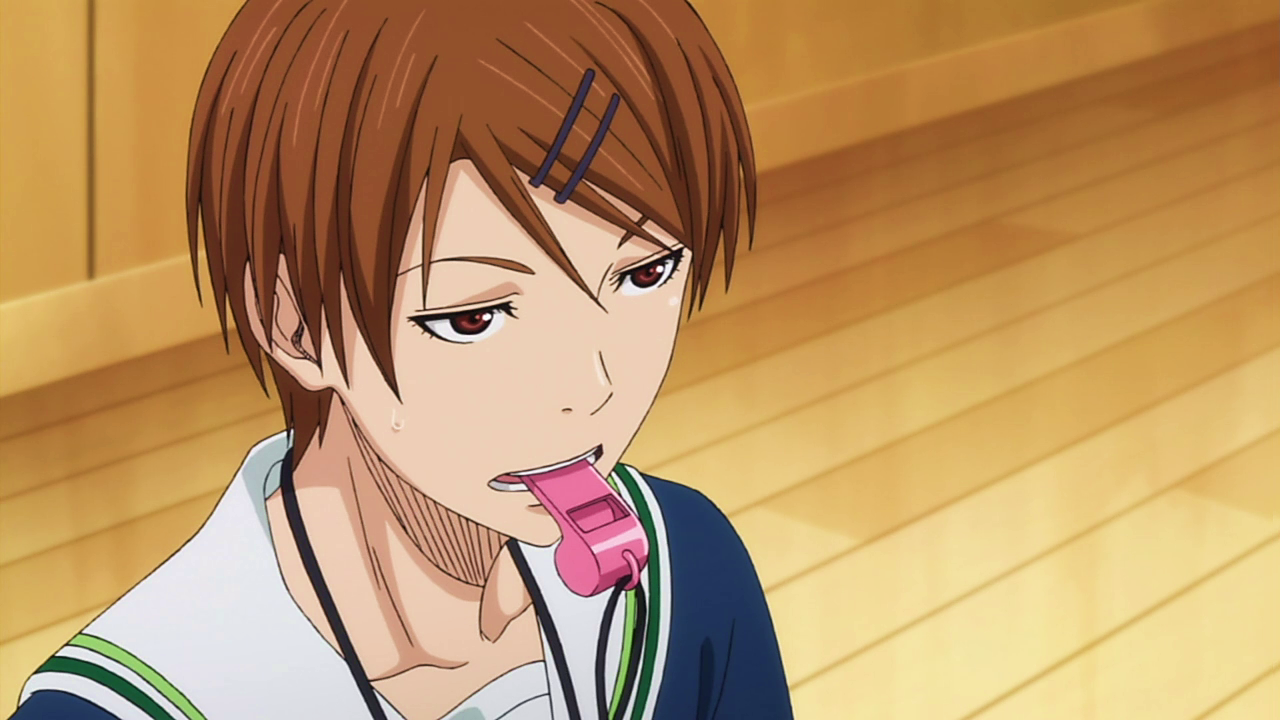 I love coach! Like I said I'm actually impressed by the degree of fundamentals and strategies are implemented into this show. That said, coach is introduced as having kind of a silly ability – with one glance coach can judge your athletic prowess like it's a 2K player profile. This first came across as utterly ridiculous, but the more I think about it this really isn't that far-fetched at all.
While the show portrays it as a lot of big numbers that mean as much as your power levels being OVER 9000, player metrics actually play a role in real world basketball. Welcome to the NBA combine,an invitational event that acts as an assortment of drills and measurements to aid in determining weather prospects from across the country have what it takes to be a pro.  The combine drills go as followed:
185lbs. Bench Press – A strength test measured reps, while also observing proper technique
Vertical Jump – Both a standing and running jump are tested
¾ Court Sprint, Lane agility drill, and the shuttle run measuring speed and agility
Just like in the show it's not just these results, but your body that's being judged. The combine allows for scouts to get a closer understanding of each eligible player and get their exact measurements in a lot of different categories:
% Body Fat
Hand Length and Width
Height w/ and w/o shoes
Standing reach
Weight
wingspan
The combine process is for the most part is a non-factor and usually only exists to confirm narratives. The combine has been criticized for reinforcing stereotypes and damaging player reputations with nonsensical data rather than on court play. One example is the treatment of Jeremy Lin who despite having a sprint time that matched 1st overall pick John Wall: went undrafted, was still considered unathletic, and then when having good results having his athleticism considered "deceptive". It's the reason why the big stars like Zion Williamson won't even bother getting called out for his weight or something out of his control when his play on the court has already spoken for itself.  It's kind of interesting for this aspect of basketball to be brought up in Kuroko and I'm glad it wasn't a beat you over the head plot point where the coach refuses to play Kuroko the first game because he doesn't have a grown-ass man body. I hope we see more development and strategy from Riko but she's quite enjoyable as comic relief (Maybe next time I'll compare her to NBA assistant coach Becky Hammon, but we'll have to wait and see).
A New Challenger Stands Tall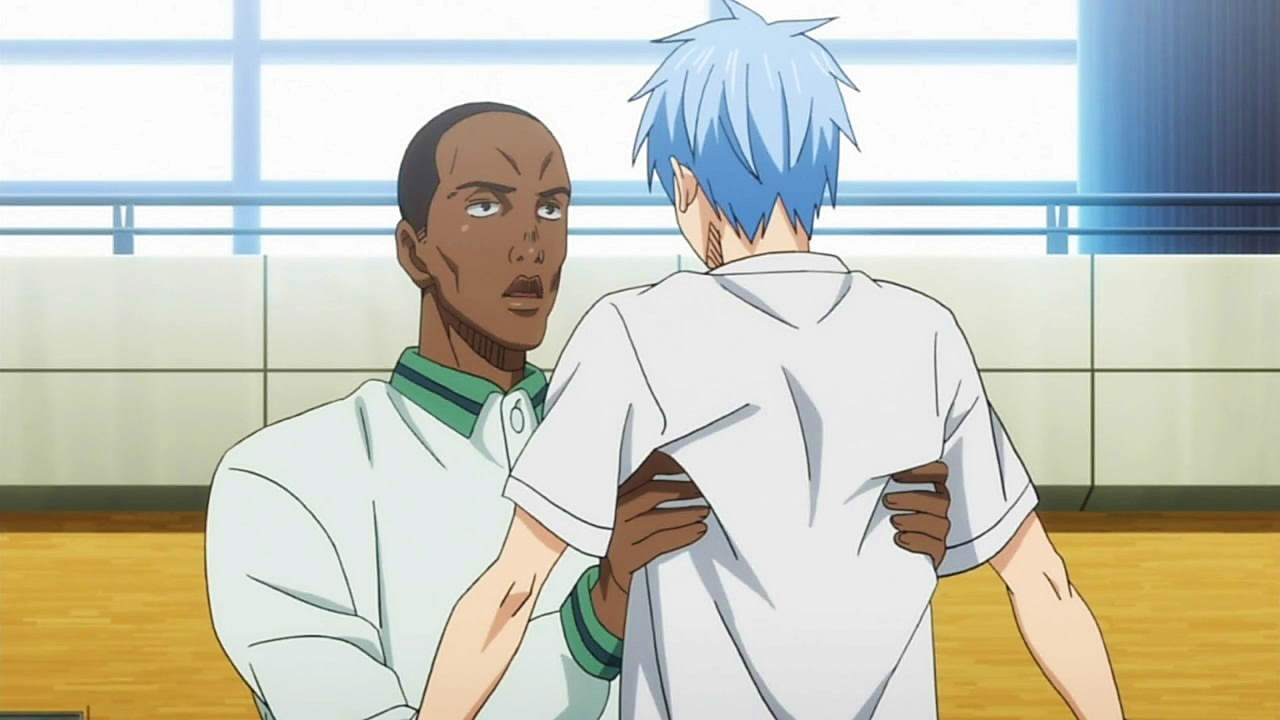 In their first game of the tournament, Serin has to overcome a rather tall hurdle. A tall hurdle that comes in the form of transfer student Papa Mbaye Siki. The tall monster of a man towers over Kagami and is a formidable opponent for the early going. Of course to show the struggles of dealing with height disadvantage the show has to go and show a cartoonish figure, everyone in this show has a grown-ass man body but c'mon do you really expect me to believe there's a 7 foot tall guy from Senegal in high scho-
Tacko Fall has entered the chat.
Tacko Fall is…. unfair. Reporting at 7'5" in high school and having the ability to dunk without jumping makes him a match-up nightmare. The interesting thing is that Papa's uncanny resemblance to Fall might be purely coincidental. Despite wearing green (the same color as Tacko's high school team), having the same country of origin (Senegal) and possessing a similar skill set… Tacko's inspiration is unclear and is actually pretty doubtful. This episode aired May 12, 2012 and Tacko Fall would have been a freshman in 2011. Tacko Fall however, didn't move to America until he was age 16 which usually would place him more likely a sophomore but given the circumstances I don't know where his entry point is. I also have to assume that this episode is anime exclusive filler which…it isn't. Papa makes his first appearance in Chapter 13: Let's Go! of the Manga dating back to March 16, 2009. The only point of contention would be that the reference to Senegal was added as a reference to Tacko and the folks behind the anime where very well researched that they heard about Tacko way before he really started to receive much coverage in 2014… or you know pure luck.
It's most likely that Papa is just loosely inspired by the tallest player in NBA history Manute Bol who stood 7' 7" (K wants me to mention that's almost as tall as two Irina's stacked on top of one another). Papa is also shown wearing superman attire, a nice nod to one of Dwight Howard's dunk contest winning dunks.
Tacko Fall is a phenomenal athlete to watch and has become both a formidable opponent and a fan favorite. Maybe Fall's most impressive display of dominance was against the nation's #1 team Duke in the National Tournament. The team with the future 10th pick in the draft Cam Reddish, the 3rd pick R.J Barrett, and a once in a generation talent in 1st overall pick Zion Williamson only beat Fall's UCF team by 1 point as Barrett scored on a clutch put back after Zion missed his 2nd free throw. A play that was only able to happen, as the foul that sent Zion to the line caused Fall to foul out and watch the other team get a game deciding rebound while he watched on the bench.
Fall has become a fan favorite despite getting little to no playing time so far in his NBA career with the Boston Celtics. Whether it's earning more all-star fan votes then your favorite player or being dunked over by Aaron Gordon in the dunk contest (how is jumping over Chance the Rapper for the 3rd time more impressive then jumping over this 7'5" colossus?  That's what the NBA gets for having 3 out of 5 judges in a DUNK contest be people who haven't dunked a basketball more than 2 times in their life) Tacko has made a name for himself.
I'm glad to find out that this wasn't meant to represent Tacko Fall because, they kind of did my boy dirty! Papa is a brute and not much else. I'm sure we all might be envious of Tacko Fall natural ability to reach any top shelf, I'm jealous of the man's mind.
Fall is a passionate student who initially wanted to pursue engineering and computer sciences before finding his basketball commitment a little too demanding for that. Fall finished UCF instead as an interdisciplinary studies and business major with a minor in psychology. Fall isn't just a basketball player and the most interesting piece of his character is that he almost doesn't want to be…
"If I could be Lebron James or Steve Jobs. I would be Steve Jobs because your athleticism will fail one day but your knowledge will last forever"

– Tacko Fall
I respect the heck out of Tacko, and I wish him success both on and off the basketball court. Fall is a a phenomenal athlete and if more people will remember him or learn about him through this anime then that's just great.
He Don't Miss!?!
Midorima's shot is so detached from reality that it's so insane to me. His gimmick is… Hit or Miss? I guess he never miss huh? Midorima is unfortunately a no-nonsense nelly and wouldn't "hit the dab like Wiz Khalifia" so… I hate him. It's not fun playing with someone who uses hacks and having and ultimate jump shot that hits with 100% accuracy with full range of the court is bullshit. Steve Kerr holds the best career 3pt fg% with 45%. Current players Seth Curry (44%) and Stephen Curry (43%) are some of the most talented shooters and they're not hitting without fail… not even close.
I'm not upset with the total fantasy of Midorima, I just don't like how astronomically improbable his shoot is. The frustrating thing isn't that he never misses or he shoots a total moon ball, it's that he's doing it while keeping a standard shooting form. The chances you'll see an NBA player shoot a casual jump shot from full court is non-existent. NBA players do shoot from beyond the half court line from occasion, but you're shooting motion is going to reflect the distance. Either you perform a runner which will have you gliding forward to carry momentum to ease the need to get the ball to go a greater distance or a baseball throw. Midorima would have to be literally a Marvel superhero to achieve this feat… probably once because of the distance but with the lack of animating the knees bending it appears as though he's really exerting his arms and you'll probably get tired slinging the ball real fast.
I would break down the art of the deep ball, but Jon Bois already covered Baron Davis' 89 foot shot and why it's one of the most impressive feats you'll come across.
Alright Dudes, that going to be it for your guy…..DUDE SPORTS GUY! What did you guys think, let me know in the comments below. More importantly let me know if you learned something new, what you'll most miss while in social distancing mode, or if my main title graphic reminds you of your favorite air-hockey table.
Dude Sports Guy, signing off.
---
---
Media/References:
Kuroko's Basketball – I.G. Production
Baron Davis 89ft shot – SB Nation
Tacko Fall High School Highlight Reel – Home Team Hoops
ESPN FAB FIVE Coverage
Steve Nash Highlight Reel – Mixed Tap Videos
CLOSEUP 360 – Tacko Fall by Josh Martin
Business Insider Mike D'antoni Offense Pioneering by Scott Davis
NBA Combine Measurements for the 2019-2020 Class
Very informative stories or great producers of more basketball content that if you're interested I would encourage to go ahead and check them out.